Anna joined our team a year ago and, for seven years prior, worked in Farrow & Ball's main showroom situated in Chelsea.  In that time she developed a wealth of knowledge consulting on design projects for both residential and commercial properties.
Anna is passionate about colour and continues to work on a consultancy basis tailoring schemes to individual needs and requirements. Below are a few images from a project recently completed.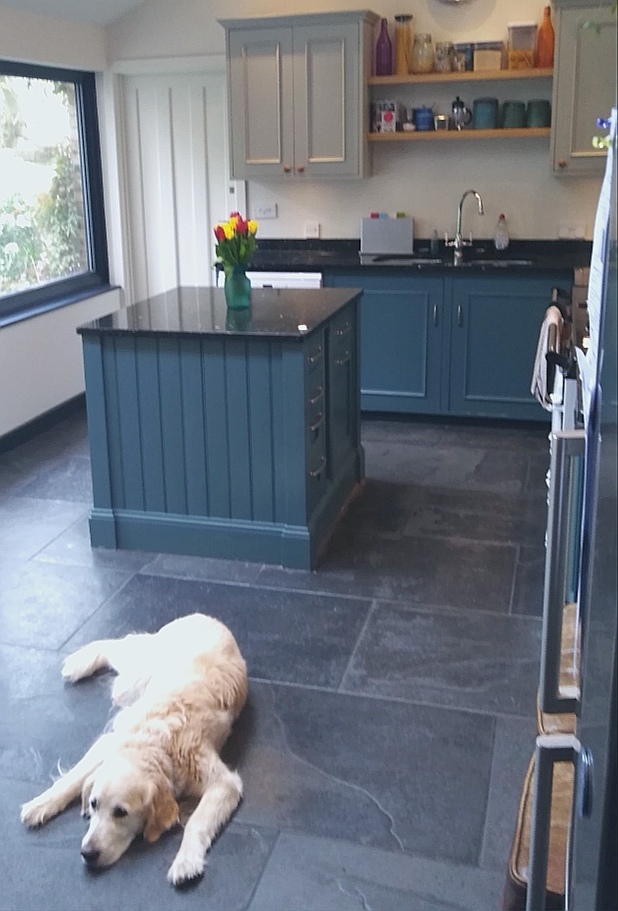 The source of inspiration for this scheme worked with the moody colours in one of the paintings in an adjoining room (can be seen in the image above).  The aim was to create a sense of flow between the spaces and needed to suit both husband and wife's needs and ideas.
Using a strong colour in the centre of the room at a low level instantly opens up the space making the area feel bigger and lighter. Inchyra blue works so well creating a sense of flow and link between the kitchen and adjoining space, particularly the painting.
The garden doors had been fitted in a tone closest to our railings so for continuity it made sense to use this as the surrounding woodwork colour on skirting, doors and panelling in the entrance hall.
When approaching the kitchen from the entrance hall the use of the colour railings echoes the window frame in kitchen, which links the two spaces creating a flow. Using Slipper Satin on the walls makes the space lovely and light.  This is largely achieved by using the lighter colour on the larger surface. Using a darker tone on the skirting draws the eye upwards once again opening up the space.
Whether your project is large or simply redecorating a few rooms; your space can be transformed to create the Farrow & Ball look with paint and paper.
Sharing tailored advice, up to four rooms can be considered in an hour, suggesting finishes complimenting your requirements, needs and style of your home.
If you feel this service might be right for you why not make the most of our In-home consultancy sprîng offer? Offer ends 31st May 2019
Get in touch to arrange your visit and take the stress out of redecorating